Picked up this 1969 at a garage sale yesterday. Need to use a magnifier to read the text. :}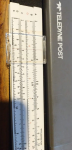 eledyne Post 44BA-470 (1969)"
Sorry, no id links. Nifty that they include a short bio of the donor/contributor.
with full picture here:
https://www.sliderulemuseum.com/Post/Teledyne-Post_44BA-470_GiftOfBillBoas.jpg
I'm not a collector of slide rules, this is going in my collection of nifty things.