The first computer I saved up for was a tower home built (386DX40), and as I'm not much of a PC gamer (FPS motion sickness and board game fascination), I have been content with laptops for the last 20 years.
When a friend was all but giving away this Lenovo Tower with a decent amount of RAM (16G DDR3) I was intrigued and bought it.
I was amused by the "Assembled in USA" sticker as I was disappointed that the great IBM PC's were sold to Lenovo--I always admired ThinkPads though too cheap to buy one, like Macs.
I will use this thread to post my journey and most importantly, questions! First question:
Why can't I seem to get into the BIOS while I mash F1 on the USB keyboard during boot??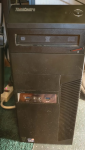 Alth
Surprised to see the ThinCentre WikiPedia page very out of date:
https://en.wikipedia.org/wiki/ThinkCentre
I was hoping to report where it fits in the line of these. Half my interest was picking up a "last of it's line" model. Later I'll find a more thorough list of these towers. The serial number warranty lookup showed it was bought in late 2014.
I usually run Ubuntu Linux on hobby PC's, but on this one I was considering Ubuntu MATE or Mint. I have a spare SATA SSD I'm planning on for this.
I am curious how much slower it actually is that a modern 8th-11th (I can't keep track of the chipset codenames..) . My current laptop is an 11th gen i5 with 15GB DDR4, and I just moved to it from an 8th gen i7, both Inspiron 2in1, lower end processors.
The onboard video card is VGA or DisplayPort, and I opted for the latter so I could keep that desktop displays HDMI cord handy for the laptop. I ran a USB extension cable from the tower to a usb hub on the desk top for more KVM switcher*roo *cheep .
Looking forward to hearing your similar experiences and thoughts.