Administrator
Staff member
It is with tremendous excitement that I present to you the Wisconsin Computer Club's first major event of the 2021 season! The Stevens Point ROBOCUP!
What's a RoboCup?
The Stevens Point RoboCup is (to the best of my knowledge) the first ever retro video games tournament focused on the 1980's icon, RoboCop! The event will feature vintage computers running (as of this writing) RoboCop 2 by Ocean Software for the Commodore 64!
Why are you doing this?
The city of Stevens Point, led by Mayor Mike Wiza, have expressed a collective interest in putting up a statue to the titular RoboCop character. The character of RoboCop was portrayed by actor Peter Weller, who once lived in Stevens Point. While unusual, it's safe to say this effort has captured the public's attention both locally and afar. As our organization is located in Stevens Point, and all the members I've spoken with are just as interested in seeing this statue come to be as I do, we've elected to help out in some material way.
TL;DR- how many chances in your life do you get to help build an enormous statue to a robot cyborg from the 1980's?
A few illustrative news articles on this matter can be found
HERE
, and
HERE
.
When? Where?
We are holding the event at the
Stevens Point Holiday Inn Convention Center
(located at 1001 Amber Avenue, Stevens Point, WI 54482) on
May 22nd, 2021
. The doors will open at 10:00 AM, with the RoboCup taking place from noon until 5PM. Winners will be announced, and we'll be wrapped up around 6PM or so.
What does it cost to attend/enter?
Admission to the event space is free. Many vintage computers from the Wisconsin Computer Club's permanent collection will be set up and freely available for use by the public. Those wishing to participate in the RoboCup for prizes and bragging rights will pay five dollars ($5) per attempt. The top three high scores will be awarded prizes. All proceeds of the event will benefit the design, fabrication, and construction of the RoboCop statue. We are grateful for any donations as well.
How does the RoboCup work?
With entry fee, the player will be given five (5) minutes to play. At the end of your playtime, or when all lives are spent, the total score will be taken. Whoever has the highest scores will win incredible prizes. There is no limit to entry, though only the highest score of all attempts will be considered for placement. The game may be played on either original vintage hardware or modern emulated hardware- you are welcome to bring your own controller if you feel it'll give you an edge!
What are the prizes!?!
FIRST PRIZE!
The coveted Stevens Point RoboCup trophy, a glorious and resplendent icon fit only for the greatest RoboCop gamer. Photos coming soon!
$100 Gaming Generations Gift Card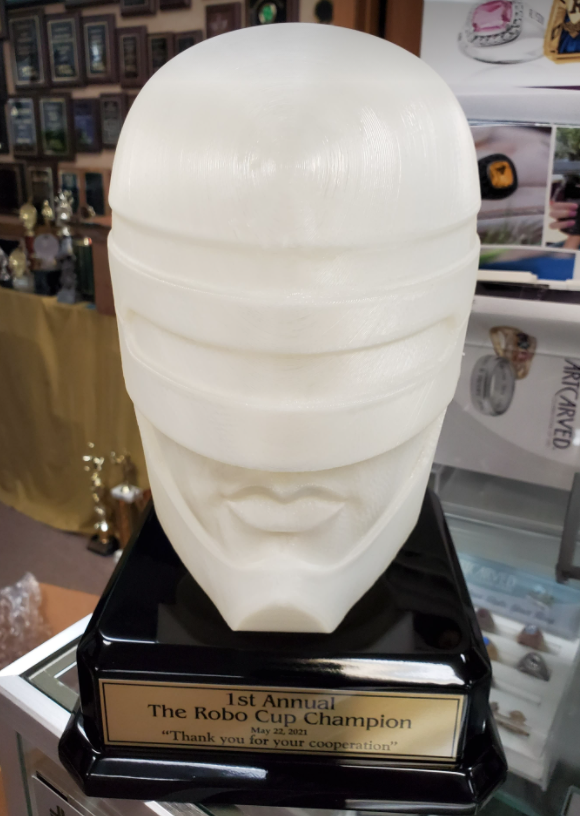 SECOND PRIZE!
$50 gaming Generations Gift Card
THIRD PRIZE!
$25 Gaming Generations Gift Card
What else is there to see?
The bulk of the Wisconsin Computer Club's permanent collection will be on working display, and open for public use. We'll be featuring many iconic computer systems of the 80's and 90's, including:
Macintosh Plus
Macintosh Performa 425
Apple IIC
Apple IIGS
Apple eMate 300
iMac (various, pre-2005)
Commodore 64
Commodore 128
Commodore Colt
Amiga 1000
Amiga 2000
Atari 400
TRS-80 CoCo
Mattel Aquarius
Compudyne 486
Zenith EaZy PC
...and more! (List subject to change)
Come on down, see a ton of retro gear in action, and try your hand at some classic games! See you there!
Last edited: